When you come into our auto repair shop. It is our promise not to over-charge or perform unnecessary repairs. One of our expert technicians will conduct an inspection of your vehicle and provide you with a written evaluation, including a detailed diagnosis of the findings. Service recommendations will be based on your vehicle manufacturer's recommendations. If your vehicle requires service, you've come to the right place. We have certified technicians who will perform the required repairs. They'll make sure that your car is serviced in accordance with your vehicle manufacturer's recommendations, including all replacement parts.
BRAKE SYSTEM SERVICES
From drum brakes to disc brakes, calipers and rotors, to shoes and pads, the highly trained technicians at McFee Auto Center know your brake system and can perform brake inspections and brake pad replacements on almost every make and model. This includes models equipped with ABS, otherwise known as an Anti-Lock Braking System. So you can drive with confidence.
CV JOINT & DRIVESHAFT SERVICES
Your axle, CV joint, and driveshaft affect the drivability of your vehicle. There are many signs that your vehicle is in need of repair. Clunking or clicking noises are signs that a CV joint needs replacement. Vibrations during acceleration may indicate a damaged driveshaft, though they may also point to an axle issue depending on the layout of your vehicle. Turning and steering issues may also arise out of a problem with the driveshaft. If you are experiencing any issues with you vehicle, bring it in to our shop and we will run a full inspection to figure out the exact problem and get you driving with confidence.  
ENGINE TUNE UPS & SERVICES
When your Check Engine light comes on — and stays on — come to McFee Auto. On many vehicles the Check Engine light is triggered by a wide range of causes, some of them as simple as you're overdue for an oil change. But it's important to know what the issue is. Our technicians will perform a diagnostic test which will help them recommend the right repair or service for your vehicle, if one is called for. And of course they can also reset the Check Engine light.
HEATING & COOLING SERVICES
Your car's air conditioning (A/C) system is divided into two sides, known as the high side and the low side. The compressor, beginning at the high side, functions like a pump, moving refrigerant through the system. The expansion valve, which begins at the low side, restricts refrigerant flow, lowering the pressure and the temperature of the refrigerant. Let McFee Auto service your car AC or car heater to keep you comfortable at any temperature.
EXHAUST SYSTEM SERVICES
Today's exhaust systems are more sophisticated than ever before. That's great for the environment and your fuel economy. The trade-offs? Dreaded check engine lights and periodic emissions inspections in many states and metro areas. You can rely on the pros at McFee Auto to troubleshoot any exhaust system problems and keep your vehicle and auto emissions systems running in top condition.
STEERING & SUSPENSION SERVICES
Turning the steering wheel of your car seems simple, but a lot happens between your steering wheel and your car's tires. This complex system relies on a number of processes in order to function properly. Nearly all vehicles today come with power steering, but if this system fails, it quickly becomes a safety issue. Typical steering and suspension services include wheel alignments, shock and strut repair and front and/or rear suspension repair.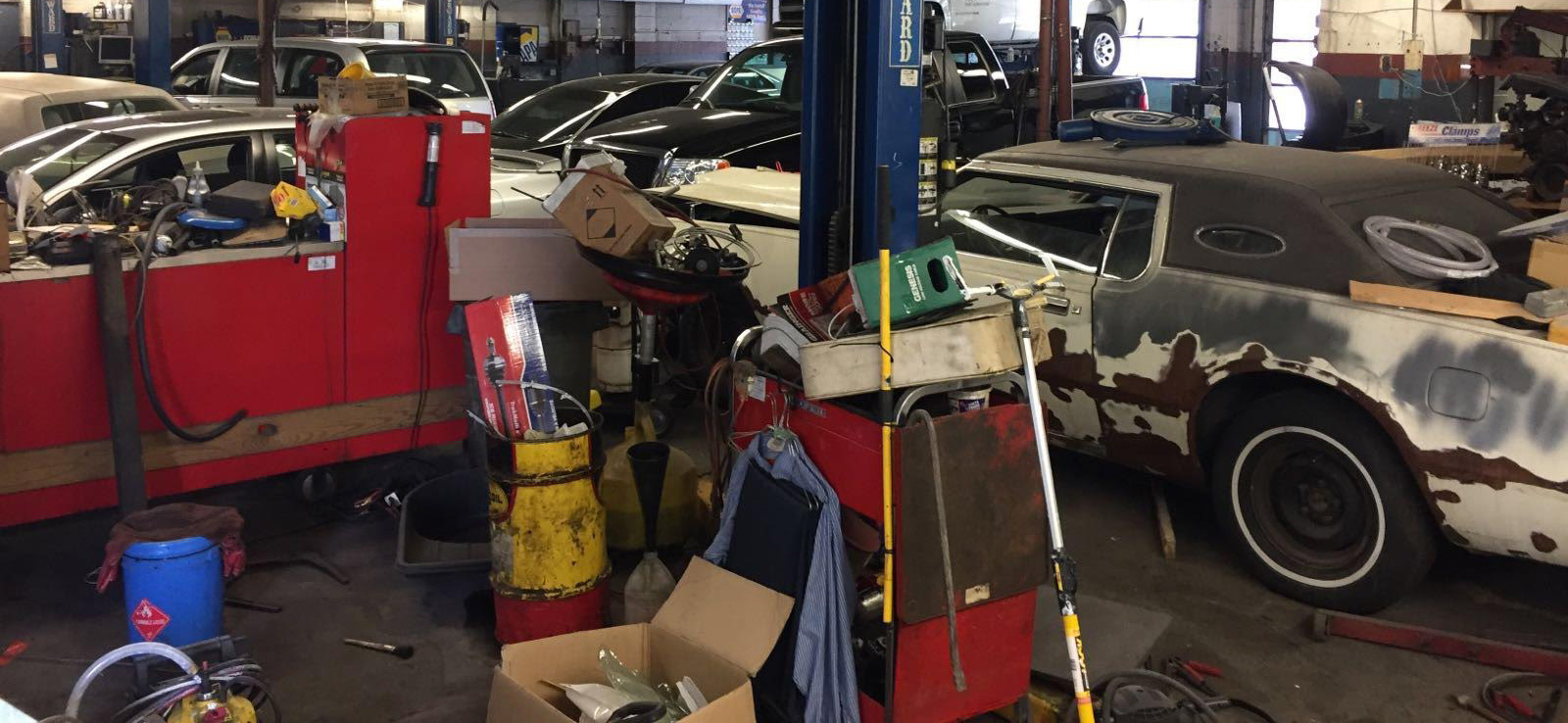 TIRE SERVICES
Whether you've got a flat or need a tire rotation we are here to help. Tires are the only parts of your vehicle that actually touch the road, so proper inflation, even tread wear and new tires, if necessary, are important. That's why McFee Auto offers a full range of tire services.
TRANSMISSIONS
A vehicle's transmission is a remarkable piece of technology that is essential to its overall performance. When this highly technical section of the drive train system does not operate as designed, the vehicle often loses power, produces a burning smell, suffers reduced fuel efficiency, or generates clunking and humming sounds. If your vehicle has any of these problems or if your check engine light is illuminated, there is a good chance that you need transmission service repair.